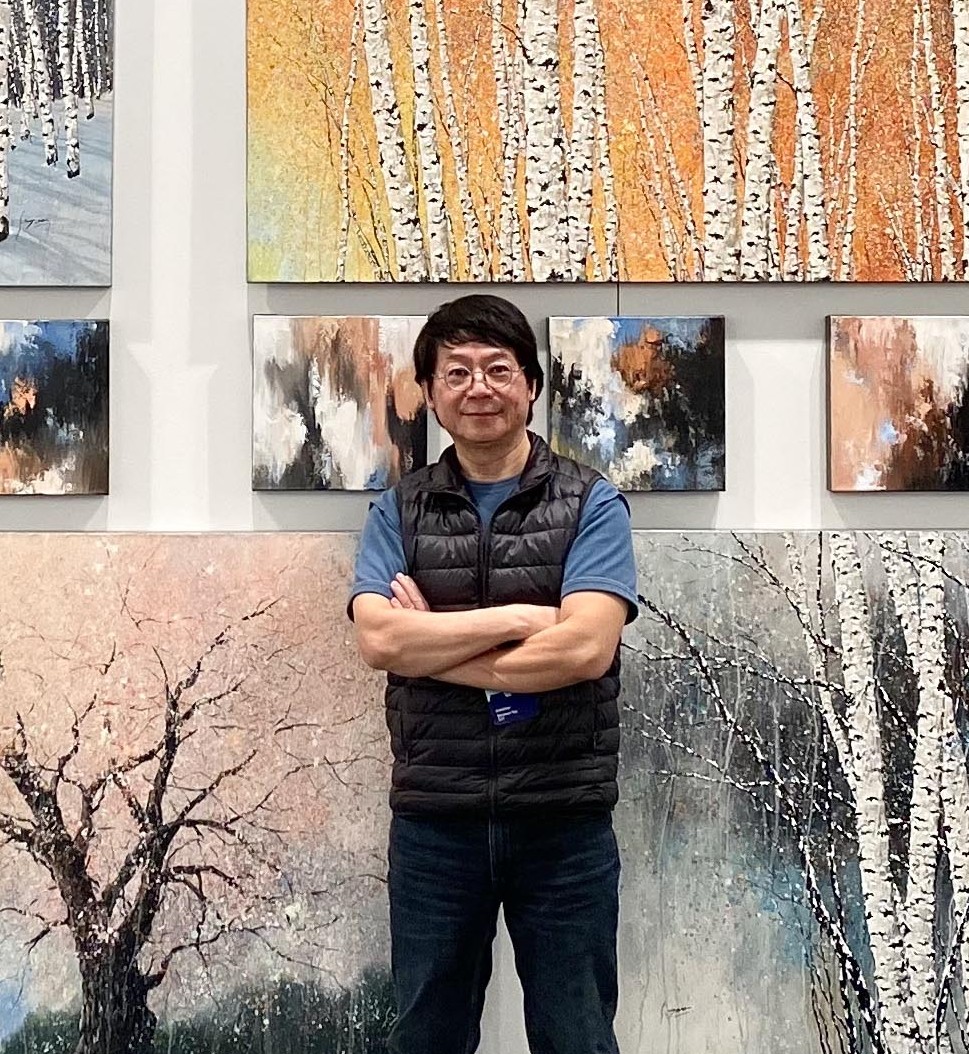 Stephen Yau - an award-winning contemporary watercolour and acrylic artist based in Toronto
Stephen Yau, an international awards winning artist, international art competitions juror and fine art instructor. He is a member of the Canadian Society of Painters in Watercolours (CSPWS), International Watercolour Masters (IWM), honourable director of the Dynasty Watercolour Association (DWA), Toronto and Art to fly, HK.
Land and Dreamland are his most popular acrylic series.Land SeriesBirch Song (Birch trees) and White Dream (Queen Annes Lace) are two significant categories in this series. They have been inspired by his textural watercolours since 2008, are characterized by means of different weave complex webs of colour, spattered, splashed and washed through the dense background jungle that interpret the nature in an semi abstract way, leading people to the deepest part of one's world. 
His paintings have been exhibited in 41 solo and more than 300 group exhibitions in various countries; and are in the collections of Hong Kong Museum of Art, Hong Kong Heritage Museum, Galerie D'Art Sepia (Paris), Diploma Collection of Canada, City of Markham ( Canada), Philippe Charriol Foundation ( France), private and corporate collections worldwide. He has started watercolour since 1977, being hailed as a genius of light and established himself as one of the international watercolour masters. Since moving from Hong Kong to Canada in 1994, he has been exploring different series of acrylic works –
Dreamland Series
Mainly inspired by the colourful houses from Mt. Tremblant in Quebec.Awards2023 Artistic Career Award - Fondazione Effetto Arte, Italy 2023 Artist of the Month - MONDIAL Art Academia, France 2021 Excellent award - The first International architecture and urban landscape watercolour exhibition, Canada 2020 Merit Award 'Flora' - Malaysia International Online Juried Art Competition (Malaysia)
2010 2nd Place - Art Fair by West Shore Art League (Michigan, USA)
2008 Best in Show - Art Fair by West Shore Art League (Michigan, USA)
2004 Sam Black Award - Open Water Exhibition by CSPWC (Toronto, Canada) 
2000 Woolfitt's Award - Best in Watercolor - Scarborough Arts Council Exhibition (Toronto, Canada) 1999 Best in Watercolor - Art Focus Artists Show (Toronto, Canada)
1999 Honorable Mention - Expressing your Faith Through Art Competition -Tyndale College & Seminary (Toronto, Canada)
1998 Woolfitt's Award - Best in Watercolor - Scarborough Arrs Council Exhibition (Toronto, Canada)
1997 Georgia Watercolor Society Award - National Exhibition by CWA (USA)
1997 Best in Watercolor - Art Focus Artists Show (Toronto, Canada)
1987 1st Runner-up in Contemporary Painting Competition - Phillippe Charriol Foundation (Hong Kong)
1978 Merit Award in Western Painting - HK Visual Art Society Exhibition (Hong Kong)Publications2018 Book - Destiny of Water - Watercolors by Stephen Yau
2016 Book - PS50 - Works by Calvin Poon and Stephen Yau
2016 Book - World of Love - Watercolors by Stephen Yau
2015 Feature artist of the Art of Watercolor - The Art Magazine for Watercolors (Eng & Fr. version) 2015 Book - The Land - Acrylic by Stephen Yau
2015 Book - Hong Kong Series - Watercolors by Stephen Yau
2014 Book - East Meets West - Watercolors by Stephen Yau
2010 Feature artist - International Contemporary Artist Vol.1
2007 Calendar - Dreamland II - Works by Stephen Yau
2006 Poster for Tourism Toronto - Creative Toronto by Stephen Ya
2005 Calendar - Dreamland - Works by Stephen Yau
2004 Promotion cards for Tourism Toronto - Dreamland
2001 Book - Home of Dragons - Watercolors by Stephen Yau
2000 Calendar - Works by Stephen Yau
1999 Book - Watercolors by Stephen Yau 97-99
1998 Cover Art - Hong Kong Literature Vol.159
1997 Book - Watercolors by Stephen Yau 96-97
1995 Feature artist - APRO BiennialVol.1 (Jap. & Eng. version)
1995 Book - Watercolors by Stephen Yau 93-95
1994 Cover Image - The Readers' Digest, Vol. July
1993 Book - Stephen Yau & Watercolors, Kuala Lumpur, Malaysia
1993 Book - Watercolor on paper by Stephen Yau
1991 Cover Image and Article - Opening of Hong Kong Park
1991 Opening Invitation for New Club House - The Hong KOng Jockey Club
1990 Book - Watercolors by Stephen Yau
1986 Cover Art - Hong Kong Literature Vol.19